Relay team completes St Kilda to Harris swim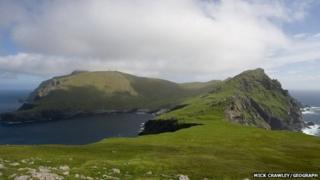 Seven swimmers have completed a relay swim from St Kilda to the Isle of Harris seven hours ahead of schedule.
The team started the 55-mile (88.5km) crossing at 04:00 on Monday from Village Bay on Hirta, the main island on the remote archipelago.
They reached Huisinish in Harris just after 15:00 when previously they had not expected to come ashore there until 22:00.
This was the third time this year the team had attempted the swim.
They had to call off previous attempts in May and July because of bad weather.
The charity swimmers tried to complete the swim last year but had to abandon it after about 24 miles (38km).
A strong northerly current slowed down their progress towards the end of their successful attempt.