Newtonmore museum's porridge ice cream 'world first'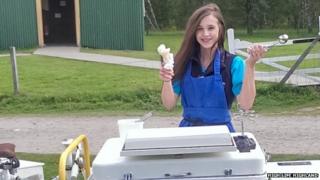 A Scottish museum is claiming a world first in making porridge ice cream.
The Highland Folk Museum in Newtonmore worked with Buckie-based ice cream producer Simpsons in combining porridge and the cold treat.
More than 800 US exchange students visiting the museum taste tested the food before it is offered for sale from 28 July.
Three flavours have been created - fruity, butterscotch and plain porridge.
Staff at the museum came up with the idea for the ice cream when trying to think of a food that fitted with Scotland's unpredictable summer weather.
A spokesman for High Life Highland, the organisation that operates the site, said: "Why not create a dish for all temperatures?
"They imagined combining our nation's favourite breakfast dish, renowned for its warmth giving properties, with everyone's summer favourite - ice cream - and came up with porridge ice cream."