Four shortlisted designs for Caithness flag unfurled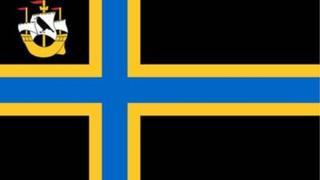 Four shortlisted designs in a contest to create a flag for Caithness have been unveiled and put to a public vote.
The design competition, which involves Highland Council, attracted entries from all over the world.
A judging panel met in Wick earlier this month to pick four and these have been made available in a digital format for the public to consider.
People will be able to vote for their favourite by email and by post until 31 July.
Details on the vote will be available on Highland Council's website.
Design A features a Nordic cross symbolising the ancient ties of the county to the Vikings.
The black recalls the area's famous Caithness flagstone and the gold and blue refers to its beaches and the sea.
It also has a galley, which is the traditional emblem of Caithness, and the raven that appears in the county's civic arms.
Design B has a Pictish style wild cat head that recalls the ancient Kingdom of Cat of the area. The triangle represents the county as a peninsula jutting into the sea.
A galley and raven appear on designs C and D along with colours representing the area's geology and maritime heritage.