RNLI Kessock volunteers on two shouts in seven hours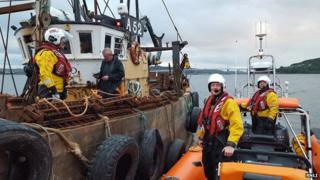 Kessock lifeboat volunteers went to the aid of a fishing boat before helping in a missing person search in a seven-hour period on Thursday into Friday.
They were first called out at 18:30 to assist the Arbroath-bound Marigold after it ran aground a mile east of the Kessock Bridge.
The lifeboat remained with the boat until it was refloated on a rising tide and was escorted to Inverness Harbour.
Kessock volunteers then made a coastal search for a missing person.
They were stood down at 12.50 on Friday after there was no sign of the person.