Sweets and knitted hats stolen from Canna's shop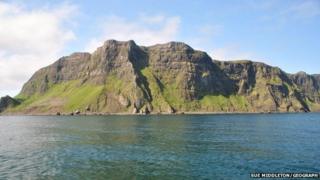 Items have been stolen from the volunteer-run community shop on Canna.
The shop near the isle's pier was left open to visitors so they could use its wi-fi and replenish supplies, leaving the money in an honesty box.
But when volunteers checked the shop over the weekend they found sweets, toiletries, batteries and six hand-knitted hats had been stolen.
On Facebook, the Isle of Canna Community Development Trust said it was "gutted" by the theft.
The trust has started locking the shop when it is not staffed.
Police Scotland wants to speak to anyone who docked at the pier over the weekend.
'Extremely rare'
A police spokesperson said the theft was believed to have happened between 20:00 on Friday and 08:00 on Saturday.
The spokesperson said: "A number of items were reported as stolen, consisting of hand knitted woollen hats, confectionary and toiletries.
"To provide assistance as part of ongoing enquiries, officers are looking to speak members of the public and those on board fishing vessels which were moored at Canna Pier around the time of the incident."
The National Trust for Scotland, which owns the island, said: "We were sorry to hear about this theft from the shop on Canna, which the community have worked hard to make a success.
"Thankfully, incidents like this are extremely rare and Canna is a very safe place."
Canna is the most westerly of an island group called the Small Isles.