Meals of 250 years ago to be recreated in Grantown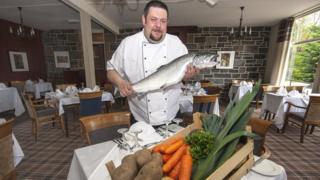 Meals eaten by poor and rich people in the 18th Century are to be recreated as part of a Highland town's anniversary celebrations.
People will be offered the chance to "lunch like a laird or picnic like a pauper" during the eight-day Grantown 250 event.
Because so little food was available to the poor, organisers have beefed up the picnic option so visitors will try it.
Chef Graeme Miller said: "They would have often just eaten porridge."
Starting on Saturday, the celebrations will mark the laying of the first foundation stones of Grantown, today widely known as Grantown on Spey, in 1765.
Mr Miller, head chef at the town's Craiglynne Hotel, was asked to lead the design of the meals for the lunch and picnic.
Historical documents were examined for references to what foods were available in the 18th Century.
'Very opulent'
Mr Miller said: "Making the laird's lunch was not too tricky as he had many of the same meats available to him that we have today but the pauper or peasants' lunch has been a bit more tricky. They would have often just eaten porridge.
"They would have rarely had meat and when they did they would have just had the scrag ends or off cuts.
"We have had to tame down the peasants' lunch a little as nobody would want to try it. However there will be a big difference between the laird's meal and the pauper's meal."
He added: "The laird's meal will be very opulent and the paupers' lunch will just use much cheaper cuts of meat."
Grantown was built around a linen manufactory started by Rothiemurchus weaver John Grant.
The settlement was named after local aristocrat James Grant of Grant.
Some of the anniversary celebrations will take place in the grounds of Castle Grant, which was owned by former Rangers owner Craig Whyte until it was repossessed last year.