Exhibition recalls war-time crash near Gairloch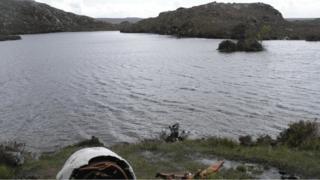 A new exhibition in Wester Ross remembers 15 airmen who died flying home to the US after the end of World War Two in Europe in 1945.
Nine crew and six other airmen who were passengers lost their lives when their Liberator bomber, nicknamed Sleepy Gal Time, crashed near Gairloch.
After taking off from Prestwick in Ayrshire, the aircraft was heading for Iceland where it was to be refuelled.
Gairloch Museum's exhibition has been organised by the Air Training Corps.
The crash happened on 13 June 1945 just weeks after hostilities in Europe had come to an end. The Allies' war with Japan was still being fought.
Sleepy Gal Time, whose crew was led by 1st Lt Jack Ketchum from Kansas, came down in the Fairy Lochs above Badachro.
Pieces of the aircraft survive at the crash scene today.
It was never established why the Liberator crashed.
Bruce Hudson, from the Air Training Corps and an organiser of the new exhibition, believes the aircraft may have been put into a steep dive to extinguish an engine fire.
The bomber may have started to break up and then went into an uncontrolled dive, said Mr Hudson.
More than 18,000 Liberator bombers were manufactured and were flown on operations in Europe, Africa, the Middle East and the Pacific.