Disabled pilots bid reaches the Highlands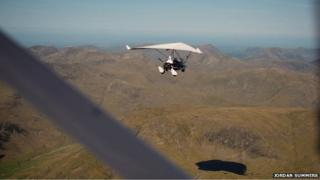 A team of wounded service personnel attempting to become the first disabled pilots to navigate the British coastline in a fleet of microlights have reached the Highlands.
The effort aims to raise awareness of the not-for-profit organisation Flying for Freedom, a partner of the charity Help for Heroes.
The fund-raising flight started from Cotswold Airport in Wiltshire.
The team members hope to complete their 2,000-mile route in 14 days.
Involving 20 stops and supported by a ground support team, the small squadron of microlights were taken over Loch Ness and other parts of the Highlands on Thursday.