New survey to be made of Battle of Glenshiel site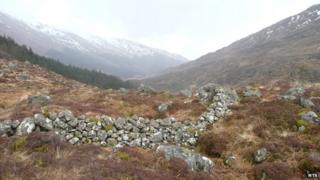 Archaeologists are to make a new survey for artefacts from the Battle of Glenshiel to mark the 296th anniversary of the fight.
Jacobites supported by Spanish troops clashed with British government soldiers at Kintail on 10 June 1719.
Fought over three hours, the clash ended in defeat for the Jacobite force.
The battle left its mark on the area. A pass used by the defeated army is called Bealach nan Spainteach - the pass of the Spaniards.
The National Trust for Scotland, which owns part of the battlefield, has commissioned the new survey.
Archaeologist Stefan Sagrott said: "We've carried out several walkover surveys across the battlefield, which have identified remains associated with the battle.
"But this survey work will be the first time it's been carried out using high-tech GPS survey kit allowing us to located the remains to within a centimetre.
"The visible remains consist of a series of banks and ditches which are all that are left of the Spanish's fortifications."
He added: "By accurately locating the remains we can both enhance our understanding of the battlefield and ensure that they are protected for future generations."