Kyle of Lochalsh lifeboat crew rescue research vessel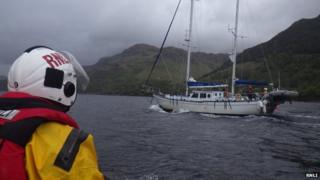 A lifeboat went to the aid of a marine life research vessel after an engine problem put it at risk of grounding.
The three crew of Silurian raised the alarm at 16:43 on Sunday on Loch Duich near Ratagan.
Kyle of Lochalsh RNLI towed the ketch into deeper water to prevent it from running aground on the shore at Ratagan.
A lifeboat volunteer was able to get the engine started and Silurian was escorted to Kyle.
An RNLI spokesperson said: "Luckily one of our volunteers who responded to the pager and was on the crew for this callout was the lifeboat mechanic and he was able to make a temporary repair to the vessel's engine.
"The location and size of the vessel along with the changeable, squally weather conditions closer to Kyle meant that it would have been a tricky tow back if the engines could not have been started."