Weather foils search for humpback whale tangled in rope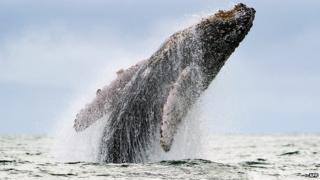 Bad weather has prevented marine animal rescuers from going to sea in search of a humpback whale tangled in a rope.
A fisherman reported seeing the whale in distress off Helmsdale in Sutherland on Thursday.
British Divers Marine Life Rescue (BDMLR) said the whale was tangled in a black rope.
However, high winds and rough sea conditions have foiled attempts by BDMLR to go out and search for the animal.
Since Thursday, BDMLR has also been monitoring seven long-finned pilot whales thought to be part of the same group that got into difficulty on Skye earlier this week.
A BDMLR spokesman said: "One is a very small calf so we think they may have come in to shelter again after the stranding, while another female gave birth. We are waiting for confirmation of size though before being definite.
"They seem quite relaxed where they are and as they are undisturbed, there are no visible signs of anxiety from this group."
He added: "Sadly, a pilot whale washed up dead near the road bridge last night. We don't know yet if that was one of the ones that we refloated.
"Some of the animals had stranded three times so their health would have been severely compromised, so it may well be one of those. "
Eight whales of the group of 21 that stranded on Monday and Tuesday died.
The animals had first beached at Staffin on Monday afternoon.
Most of the whales were saved but 10 then went on to strand themselves on rocks on nearby Staffin Island.
The stranding was thought to have been triggered by a pregnant female having problems while calving.