Breaking up Highland Council into smaller areas debated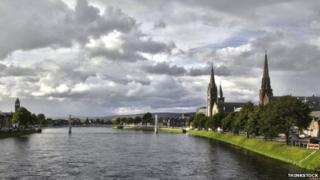 A Scottish local authority that covers a land mass almost as big as Belgium could be broken up into smaller district councils.
Highland Council represents a total area of 10,225 sq miles (26,484 sq km) - which represents 11.4% of Great Britain and is 20% larger than Wales.
At a special meeting in Inverness, some councillors argued that smaller district councils should be set up.
However, others said the council should go for stronger area committees.
All the councillors voted in favour of a motion that said the current structure was not fit for delivering local decision-making.
However, the councillors could not agree on how this should be achieved. The issue will be discussed again at another meeting.
'Whack them up'
Highland Council covers large geographic areas such as Caithness, Sutherland, Wester Ross, Easter Ross, Badenoch and Strathspey and the Isle of Skye.
Donnie Kerr, a councillor for Inverness Central, said the city should have its own local authority like other Scottish cities.
He said: "This is not something I would have supported 10-15 years ago. I don't believe there was the population to do that.
"The population is there now. We are a city and other cities manage to have councils of their own."
Mr Kerr said on some matters Inverness councillors felt they were outnumbered by those representing rural areas of the local authority.
He said: "On car parking fees - there are no car parking fees in other parts of the Highlands - but in Inverness you are quite happy to whack them up left right and centre.
"This is not fair. This is not democratic."
Inverness South councillor Thomas Prag supported the motion but said he opposed "turning back the clock" to the district council structure of the past.
He said: "I want recognised what Highland Council has done. It has done some really terrific things."
Mr Prag added: "I am really worried that we end up with something which is terrific but cannot be afforded, that the resources aren't there or we end up doubling the size of the bureaucracy."