'Errors delayed cancer diagnosis' for patient who died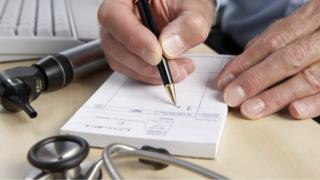 Errors led to an "unreasonable delay" in diagnosing cancer in a woman who later died after the disease recurred following surgery, a watchdog has said.
The Scottish Public Services Ombudsman (SPSO) said a GP practice's care of the patient fell below General Medical Council standards.
The SPSO has upheld a complaint that the doctors did not reasonably diagnose an "extremely large" tumour.
The practice also did not indentify the recurrence of cancer.
The GP practice in the NHS Highland health board area has not been named.
In the SPSO report, the patient has also not been identified and was described only as Mrs A.
A complaint was made to the watchdog on behalf of her family following her death.
Cancerous growths
Mrs A had breast cancer surgery in late 2012, during which an "extremely large high-grade tumour" was removed. The complaint alleged delays in diagnosing cancer.
Seven months after having surgery, Mrs A contacted the practice about back pain and spasms. She also had a wheeze and cough.
Between 29 July 2013 and 19 August 2013 she had four telephone consultations with three GPs at the practice, who prescribed and adjusted pain relief medication. They later provided Mrs A with an inhaler.
The day after the last consultation she contacted NHS 24 because she was having problems breathing.
They arranged for an out-of-hours doctor to visit, who diagnosed pneumonia and said Mrs A should contact her GP.
She did this and saw another GP from her practice who referred her straight to hospital because of her history of breast cancer.
Mrs A was found to have cancerous growths and a build-up of fluid in her chest. She was admitted to hospital but died before cancer treatment could be started.
The SPSO has recommended that the practice apologise to her family for the failure to identify the recurrence of cancer.
It has also said the complaint should be discussed during the next annual appraisals of three GPs involved.
NHS Highland said: "We're aware of the report published today by the ombudsman.
"This is for the GP practice to respond to and we would expect them to fully comply with all recommendations laid out in the report."