Cargo ship runs aground while docking at Corpach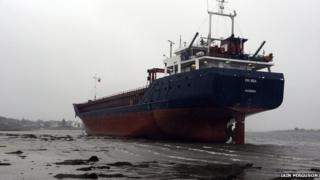 A cargo ship has run aground while docking close to Fort William on the west coast of Scotland.
Stornoway Coastguard said the alarm was raised on Saturday morning when the 91m Fri Sea went aground at high water while docking at Corpach.
There were no reports of any injuries and no signs of pollution at this time. The crew remain on board the vessel.
The coastguard said it was likely an attempt to refloat the vessel would be made at high water on Sunday.
The Fri Sea, operated by the Kopervik Group, was due to collect a load of timber.
Another Kopervik cargo ship, the Fri Ocean, ran aground in the Sound of Mull in June 2013 while transporting timber from Corpach to Varberg in Sweden