Fresh complaints about Skye Bridge closures aired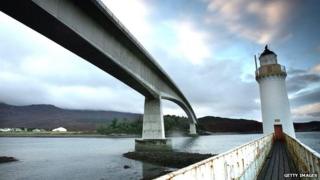 Skye councillors have met representatives from Transport Scotland and Bear Scotland following fresh complaints about Skye Bridge closures.
The system used to determine when it should be shut during high winds has been under review since December.
Between September and January the bridge was shut to lorries almost 100 times and all traffic on 14 occasions.
Councillor Drew Millar said warnings on electronic signs maybe remaining in place longer than necessary.
The councillors have received complaints from islanders and other regular users of the crossing about the frequency of the closures.
Bear Scotland uses three levels of warning in the crossing's wind management plan.
Gusts greater than 35mph prompts a high winds warning, 50-75mph closes the bridge to high-side vehicles and 75mph and stronger shuts it completely.
The review was agreed last year during a meeting between Bear Scotland, police, NHS Highland and Highland councillors.