MoD: Submarine ranges claims 'absolutely not true'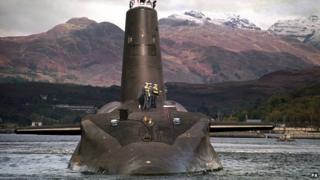 The Ministry of Defence (MoD) has said claims that a test area in Scotland for Royal Navy submarines has been expanded without consultation are untrue.
SNP MSP Dave Thompson said it was his understanding local fishermen had not been consulted on extending the ranges between Raasay and the mainland.
Fishing is banned in an area six miles (10km) long and three miles (6km) wide in the Raasay Ranges.
The MoD said consultation on a planned expansion was due to begin in June.
A spokesman said: "It is absolutely not true to say that the MoD has already doubled the size of the protected areas of Raasay Ranges.
"Consultation with local sea users regarding the proposed expansion of the protected area is due to begin in June 2015 as part of the MoD byelaw review, led by the Ministry of Defence's Defence Infrastructure Organisation.
"No final decisions will be made before then."
Exclusion zone
The ranges in the Inner Sound between the Isle of Raasay and Applecross on the mainland form part of the British Underwater Test and Evaluation Centre (Butec).
Butec provides a sonar and weapon system test area for the Royal Navy crews of Vanguard-class nuclear weapon submarines and Astute and Trafalgar-class attack submarines.
Fishing is prohibited in the area and fishing boats and other vessels can only remain in the Butec test area for as long as it is necessary for them to pass through the Inner Sound.
The submarine ranges are run from a site near Kyle of Lochalsh.
Earlier this week, Mr Thompson, SNP MSP for Skye, Lochaber and Badenoch, said the ranges' exclusion zone was to be expanded to the shorelines of the Inner Sound.
He told BBC Scotland: "I have no problem with them (MoD) putting in greater investment and developing the area.
"But if they wish to expand the restricted area, which will stop other people from earning a living, then any extra benefit to the local community will be totally negated."