Toymaker Mattel creates new doll Lorna McNessie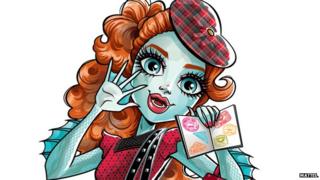 The toymaker behind Barbie has created a new doll inspired by the Loch Ness Monster myth.
Lorna McNessie is one of the latest additions to Mattel's Monster High, a range of characters that also includes zombies, ghosts and werewolves.
She is described as the daughter of the Loch Ness Monster and is from Rotland - Monster High's version of Scotland.
Loch Ness Bid, an organisation that promotes the loch and surrounding area, has welcomed the doll's creation.
Graeme Ambrose, of Loch Ness Bid, said: "The introduction of the character Lorna McNessie is a testament to the continued interest and drawing power of the Loch Ness Monster.
"The monster is shrouded in mystery and perhaps slightly scary in a nice way for children and it is therefore of little surprise that Mattel have chosen to introduce this character, daughter of the Loch Ness Monster."
Mr Ambrose added: "I am sure that it will have many children begging their parents to take them to Loch Ness which can only be of benefit to the area."
As well as the doll, Mattel has had an animation made of the tartan-clad Lorna McNessie.
The short film shows her having to leave Rotland for Monster High to avoid publicity caused by her appearance out of the loch.
Other toymakers have drawn inspiration from Scotland in the past.
In 2013, a Scottish island was twinned with a video game's virtual world.
Skye's twinning with the fictional isles of Skylands was done to promote a new version of Skylanders.
VisitScotland said at the time that the move would also boost tourism to Skye, and was the first time a video game "world" had been twinned with a real place.
Highland Council was also involved in the twinning, which involved game characters appearing on Skye's official tourism website.
A large scale version of one of the game's characters was also taken to Skye for publicity photographs.
Disney also has a range of toys to accompany its Oscar-winning animated film Brave, which was set in the Scottish Highlands.