Household tin openers to be used at Dounreay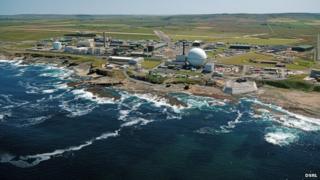 Household can openers costing less than £15 each are to be used in a £10m facility at the Dounreay nuclear plant in Caithness.
The kitchen tool will be used to open soup tin-sized cans that have held radioactive material for more than 30 years.
It will take workers three years to process all the cans.
Dounreay is being decommissioned and the site cleaned up in a project costing £1.6bn.
Two types of can openers - one made in Germany and other Switzerland - are being trialled before being put to use at the new processing facility.
The openers are the latest low cost solution to handling Dounreay's toxic legacy.
A dressmakers, a silver ironing board cover and a duvet are also playing a part in the project to demolish and clean up the site.
The decommissioning includes the dismantling of the Dounreay Fast Reactor (DFR).
A robotic camera built to explore pipes inside the reactor has to operate in high temperatures.
The DFR team turned to Elizabeth's Fabrics in nearby Thurso to create a hood from the cover and 7.0 tog duvet.
The hood insulates and protects the camera and will allow staff to look for radioactive liquid metal coolant known as NaK inside the DFR.
Three years ago, cardboard tubes inside rolls of paper towels emerged as a solution to a problem operating a piece of equipment used to treat radioactive waste.
The sludge mixer stirs radioactive material dredged from the DFR with cement inside 200 litre steel drums.
Workers were having difficulty fitting the machine's motor drive to the spindle of its mixing paddle.
They have been using the tubes to make it easier to access the spindle.
By cutting the cardboard rolls into equal sized pieces they have been able to raise the paddle off the bottom of the drums.
The spindle can then be easily reached because it pokes above the top of the drums.
The cardboard easily squashes down and mixes with the sludge and cement without risking any damage to the device.
Domestic cleaning products have also been used to clean plutonium stains from equipment.