Remains of Bronze Age 'bowman' found in Drumnadrochit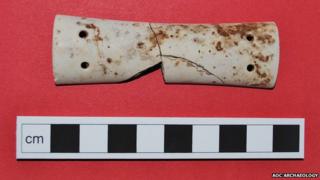 Skeletal remains found in a village on the shores of Loch Ness have been identified as dating back to the Early Bronze Age.
A wrist guard, for use with a bow and arrow, and shards of pottery were also discovered with the remains at Drumnadrochit, near Inverness.
The artefacts were found in a burial cist uncovered during work to build Drumnadrochit's new health centre.
The wrist guard suggests the remains are those of man.
However, archaeologists have still to confirm the gender of the person who lived in the area about 4,500 years ago.
Tests may also reveal how the person died.
Heather Cameron, of NHS Highland, said: "It is perhaps fitting that the site of what will be Drumnadrochit's newest public building should have had the remains of what may well have been the community's first resident.
"The skeletal remains are 4,000-4,500 years old, dating back to the Early Bronze Age."
She added: "We are particularly excited to have uncovered the pottery and wrist guard in what appeared to be a second grave next to the first.
"I think we will be looking to mount a display on the finds somewhere in the new building when it opens at the end of the year."
Mary Peteranna, of AOC Archaeology Group, has been working on what she described as "significant" finds for NHS Highland.
She said: "The shards are of around two-thirds of a beaker pot which will probably have been around 20-30cm high.
"What makes them particularly interesting is that there is some organic material adhering to the base of the pot, so we may find out something about its contents.
"The shards have a distinctive decoration which may have been made on the clay before firing in a stabbing movement with something like a feather quill."
The archaeologist added: "The wrist guard is also particularly exciting. It has holes so that it could be tied to the wrist with a leather strap, and may have been ornamental or functional."
NHS Highland said it was possible further finds could be made as the construction work progresses.