Mountaineering group warns about 'killer cornices'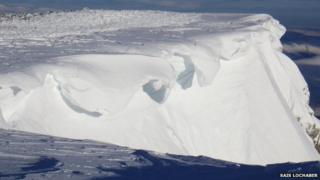 The Mountaineering Council of Scotland (MCofS) has warned walkers and climbers of the risk posed by large overhanging ledges of snow called cornices.
They can be mistaken for solid ground. There were 18 recorded incidents of people falling through cornices last winter.
The ledges can also collapse under their own weight and cause avalanches.
The MCofS said that while spectacular to look at from a distance, cornices could "also be killers".
Earlier this month, five people escaped an avalanche caused by a cornice collapse on Ben Nevis.
All involved managed to walk away, with only one very minor injury reported.
MCofS said recent strong winds and heavy snowfall would have formed cornices on many of Scotland's mountains.
Heather Morning, mountain safety adviser for the council, said: "It's a very real hazard.
"They can be especially hard to detect if visibility is poor, in cloud or in falling snow.
"So if you are at all unsure of your ability to navigate, then turn around if the visibility becomes poor. The mountain will always be there another day.
"If the forecast is for poor visibility, then plan ahead and choose a lower mountain or a walk in the glen."