St Kilda diary from 1900s to be made available online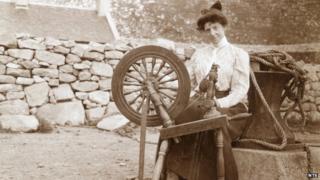 Extracts from a schoolteacher's diary of her time on the remote St Kilda archipelago in the early 1900s are to be made available online.
Haddington-born Alice MacLachlan taught at the small school on the main island of Hirta from August 1906 and May 1909.
Her husband Peter, who was from Tobermory, was a Church of Scotland minister on the island.
People had lived on St Kilda for centuries but was evacuated of its last 36 residents in 1930.
Life on the island had become too difficult.
The National Trust for Scotland will start uploading entries from Mrs MacLachlan's diary to a website from 19 January.
The teacher's diary begins with her time in Garve, near Inverness, where she taught before moving to St Kilda.
On Hirta, her husband took classes in the morning and she taught the 22 pupils in the afternoon.
After returning to the mainland in 1909 they moved to Glenelg on the mainland opposite Skye for about three years.
They later moved to Acharacle where she died of a cerebral haemorrhage at the age of 48.
A description found of Mrs MacLachlan said she was "a striking woman, tall with auburn hair and very blue eyes".
A log book kept at the school on Hirta was made available online in 2011 in a project called Hebridean Archives.
Its final entry reads: "Attendance perfect for the last week.
"Today very probably ends the school on St Kilda as all the inhabitants intend leaving the island this summer."
An earlier entry details one pupil, Donald Gillies, not turning up for class because he was helping to shear sheep.