Patient taken to Aberdeen tested negative for Ebola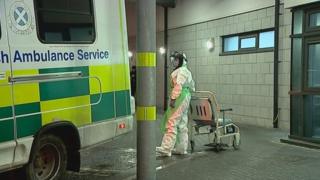 The second healthcare worker who was tested for Ebola in Scotland has tested negative, the Scottish government has confirmed.
The woman was taken to hospital in Aberdeen on Tuesday after falling ill at a youth hostel in the Highlands.
She had recently returned from West Africa.
The Scottish government said a blood sample was taken to a testing facility in Edinburgh and was confirmed as negative for the infection.
The woman was taken from the Torridon Youth Hostel by ambulance staff wearing protective suits, after complaining of feeling unwell.
It is thought she was amongst a party of around 30 people who had hired out the youth centre.
She later arrived at the infection unit at Aberdeen Royal Infirmary where she was taken into the building surrounded by medical staff in protective clothing.
NHS Highland said the woman had recently returned from Sierra Leone, and was moved in a specially-equipped ambulance.
It came after a health worker was diagnosed with Ebola after returning to Scotland from Sierra Leone.
She has been transferred from Gartnavel Hospital in Glasgow to a specialist treatment centre at the Royal Free Hospital in London.
Ebola is transmitted by direct contact with the bodily fluids - such as blood, vomit or faeces - of an infected person.
The early symptoms are a sudden fever, muscle pain, fatigue, headache and sore throat.
This is followed by vomiting, diarrhoea, a rash and bleeding - both internal and external - which can be seen in the gums, eyes, nose and in the stools.
Patients tend to die from dehydration and multiple organ failure.