Talks to be held over Caithness General consultant shortages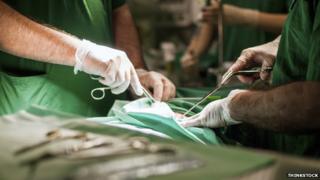 Talks to discuss staff shortages at Caithness General Hospital are to be held next month.
It comes after a shortage of consultants at the hospital in Wick, following the departure of two key members of staff.
NHS Highland bosses and community leaders hope to find a solution for the ongoing problem, which arose after one surgeon retired and another resigned.
Out-of-hours surgical services at the hospital have been suspended.
The Highland health board said it was looking at new models for the service that would allow it to continue on a more sustainable basis.
Earlier this month, the health board pledged that the decision to suspend the out-of-hours service was not the beginning of a process to withdraw surgical services from Wick, and said it was seeking a long-term solution to the problem.
Political consensus
The leader of Highland Council's Caithness and Sutherland area committee, Councillor Deirdre MacKay said there was a political consensus that everyone needed to work together to find the best way forward for the providing vital medical services in the far north.
She said: "This is the first step and the opportunity with the key people round the table, to drill down into the issues, to establish the facts required in order to fully understand the situation and get ourselves into a position to work out the most effective way forward to protect provision in Caithness General Hospital.
"Caithness General Hospital is a rural general hospital and accordingly governed by specific rules. No decision to alter the service can be made without consultation.
"We know there are recruitment issues at national level which are compounded in rural areas however we need to get under the surface of the issues, think creatively and support NHS Highland to develop sustainable, long-term plans for the future of the hospital."
The meeting will take place on 6 January.