Pickled onion-size hailstones fall in storm over Lewis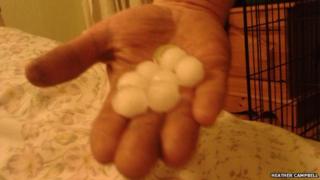 Hailstones as big as pickled onions have fallen over Ness in the north of Lewis.
Local resident Heather Campbell said the hail fell during a thunderstorm at about 23:00 on Thursday.
The hailstones were the same size as a pickled onion, or a £1 coin. Last week, hail as big as a 5p fell over Lamlash on the Isle of Arran.
Intense thunderstorms and hail have also been experienced in Kilchoan in Ardnamurchan in the Highlands.
The large hailstones are the latest unusual feature of this winter.
Earlier this week, "ice pancakes" the size of dinner plates were found floating on the River Dee in Scotland.
The strange discovery was made by members of The River Dee Trust at a place called the Lummels Pool, at Birse, in Aberdeenshire.
River Dee Team biologist Jamie Urquhart said it was thought foam floating about on the water started to freeze and bump together, forming the discs.
The phenomenon can be found in rivers and in the open sea.
And frost flowers have been photographed at Haddo House and Country Park near Tarves in Aberdeenshire.
The "flowers" are created by water being squeezed through pores in rotten wet wood.