McQueen of Scots: Designer's Scots heritage explored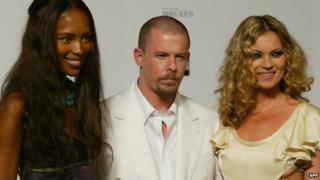 Fashion designer Alexander McQueen's Scottish heritage is explored in a new documentary.
London-born McQueen, who often used tartan in his garments, was found dead at his home in the city in 2010.
The 40 year old's ashes were scattered at Kilmuir on Skye. His father's ancestors were from the island.
BBC Alba's McQueen of Scots looks at how his mother Joyce traced the family's roots back to the time of the last Jacobite rising.
The programme also examines Scottish influences on the designer's work.
McQueen, who grew up in London's East End, drew on elements of Jacobite history and the Highland Clearances in his work.
Flora MacDonald, who helped Bonnie Prince Charlie evade capture after his Jacobite force was defeated at the Battle of Culloden in April 1746, was buried at Kilmuir.
The clearances saw communities on Skye and other parts of the Highlands cleared in the 18th and 19th centuries to make way for large-scale sheep production.
There were incidents of forced evictions which involved the thatch on the homes being set alight and the walls of turf and stone being pushed down.
Highland Rape and Widows of Culloden, two of McQueen's most controversial autumn/winter collections, were influenced by these characters and events and feature in the one-hour TV documentary.
The first of the collections featured low slung "bumster" skirts, while Widows of Culloden in 2006-7 included a wool tartan dress.
Sex in the City actress Sarah Jessica Parker wore a variation of the dress to a function in New York in 2006.
McQueen, who wore tartan to collect a CBE in 2003, said that his aim with the collections was to strip away the romanticism which exploited Scotland's image.
His other work was showcased on catwalks around the world by super models Naomi Campbell and Kate Moss, who modelled for the Widows of Culloden collection.
McQueen's trademark skull motif scarves were worn by Johnny Depp, Lindsay Lohan and Cameron Diaz.
In 1998, double amputee Aimee Mullins, a former Paralympian, modelled his clothing on a catwalk wearing a pair of hand-carved wooden prosthetic legs.
Presented by Cathy MacDonald, McQueen of Scots will be shown on BBC Alba on 24 December from 20:55.