Renovation of Bona Lighthouse on Loch Ness completed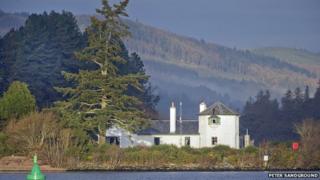 A small historic lighthouse at Loch Ness near Inverness has been renovated at a cost of £497,000.
Scottish Canals and national heritage company Vivat Trust raised the funds needed to conserve Bona Lighthouse.
It was designed in 1815 by a superintendent of engineer Thomas Telford and was at one time the smallest manned lighthouse in Britain.
The building, which helped to guide boats using the Caledonian Canal, has been converted into holiday cottages.
Historic Scotland was among organisations that supported the renovation project.