Jellyfish swarm kills 300,000 salmon at Uist fish farm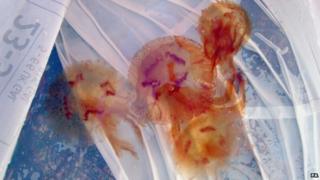 Swarms of jellyfish have killed up to 300,000 salmon at a fish farm in the Western Isles.
The mauve stinger jellyfish, also known as pelagia noctiluca, are small enough to get inside salmon cages.
The jellyfish swarmed at salmon company Loch Duart's farm on North Uist last month.
Bad weather that followed the incident prevented the fish from recovering from their injuries. Loch Duart said half its stock at the farm had died.
In 2007, the stinging jellyfish swamped salmon cages off Northern Ireland before later appearing in swarms around the coast of Highlands Scotland.
Billions of the creatures covered an area of up to 10 square miles off the County Antrim coast.