Regulation suggested after Skye guide's fatal fall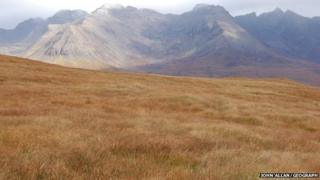 A sheriff has suggested that mountain guides require regulation after a fatal accident on Skye in 2012.
Graham Paterson, a 60-year-old experienced guide, fell while leading a client with no previous experience of hillwalking in a Scottish winter.
After several attempts, the woman managed to descend and raise the alarm.
But because she had no map to allow her to give rescuers a grid reference, it was two days after the accident before Mr Paterson's body was found.
Sheriff Derek Pyle said the incident highlighted the need for guides' clients to be adequately equipped and be given prior information on where to find a safe route off a hill.
He said guided walking and climbing parties should have more than one person with the know-how and equipment to get safely down off a mountain or hill.
Mr Paterson, from Carbost, Skye, and a guide with 20 years experience, died from his injuries before rescuers could reach him in the Cuillin mountains.
In his newly-published determination, Sheriff Pyle said he understood the risks walkers and climbers were prepared to take as he was a keen walker himself.
However, he said the badly-injured Mr Paterson was the only person on the day out with the knowledge and the equipment to deal with an accident during the trip.
The sheriff said it was for policy-makers to find a way to regulate mountain guide businesses.
'Loved his job'
Mr Paterson fell during a walk in Coire na Banachdich on 27 December 2012.
Sheriff Pyle said Mr Paterson's client, Ildiko Kerek, who was a keen hillwalker from Bristol, would not have survived the night on her own.
A fatal accident inquiry had earlier heard how Ms Kerek had no map or food and endured a difficult descent because she was unfamiliar with the terrain.
When she did eventually manage to raise the alarm she could not give rescuers a grid reference and instead described the terrain where Mr Paterson had fallen.
After searches, the guide was found dead on 29 December.
In his determination, Sheriff Pyle said: "Mr Paterson, I can surmise, loved his job.
"I have no reason to think that he set out with the aim of causing his client to be faced with unnecessary risks.
"I have however concluded that he made errors of judgment. That ought to be the extent of the criticism which he now receives.
"I did not have the benefit of hearing from Mrs Paterson. There is, however, a reference in the papers before me that it is some comfort to her that he died on the mountains he loved."
The sheriff added: "Whether one ventures or not into the hills of Scotland, it is easy to sympathise with that sentiment. I give my condolences to her and her family for their loss."