Carnegie relative returns to millionaire's lost cabin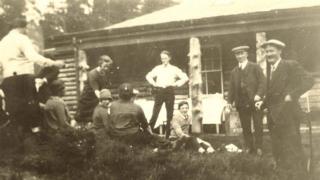 The remains of a log cabin where philanthropist Andrew Carnegie spent summer holidays have been rediscovered by his great grand-daughter.
Margaret Thomson had not been to the site in Ledmore and Migdale Woods in Sutherland since she was a young girl.
She was able to lead volunteers to the location from what she could recall of the path to it.
While the site of the retreat is thought to be known locally, it had been lost to the wider public.
Little of the log cabin survives in the woodland near Spinningdale.
Dunfermline-born Carnegie moved from Scotland to the US with his family when he was 13.
He later went on to amass enormous wealth building up a steel business. When he sold his Carnegie Steel Company in the early 1900s he got $480m.
The millionaire bought the Skibo Estate, and its Ledmore and Migdale woods, in 1897 and the land remained in the family until the 1980s.
The cabin was constructed near a place called the Fairy Glen, which the Carnegies opened to the public in 1907.
A charity, the Woodland Trust Scotland, now owns the woods.
Ms Thomson went in search of the cabin as part of a trust project to create a series of audio-visual presentations about the woodland.
They will be shown at a special event at Dornoch Social Club on Saturday and later published on the trust's website.
The other presentations, called sound slides, examine the impact the Canadian Forestry Corps had on the area during World War 2, and how an outdoor church was created on the shores of Loch Migdale before the Great Disruption of 1843 when part of the Church of Scotland broke away to form the Free Kirk.
Eleanor Garty, the woods' site manager, said: "Ledmore and Migdale Woods have a long human history and it's tremendously exciting to see the high quality work that the volunteers have produced, and the way they have engaged with local people to explore their stories and make their memories accessible to a wider audience.
"The project has uncovered much more fascinating material than could be included in the short presentations, so we will be lodging the full recordings in local archives, where they can be accessed by the public."