Driver had 'couple of drams' before fatal Caithness crash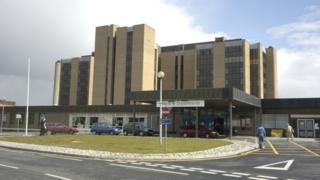 A convicted drink driver admitted having a "couple of drams" before he was involved a crash that killed a bus driver on the Wick to Thurso road.
Andrew Sinclair, 33, has been jailed for four years for causing the death of William Davison, 63, by dangerous driving while impaired by alcohol.
The tenant farmer, of Newtonhill, Caithness, was also banned from driving for six years and eight months.
Sinclair was previously convicted of drink driving in 2005.
The High Court in Glasgow heard that he had the equivalent of two or three bar measures three hours before he got behind the wheel of his pick-up truck on the day of the crash.
The level of alcohol in Sinclair's blood is not known because he could not be tested after the accident due to his injuries.
But judge Lord Armstrong told him: "Even taking small quantities of alcohol undermines the ability to concentrate on the road.
"The manner of your driving caused a substantial risk to other road users."
'Lost control'
Referring to Sinclair's conviction for drink driving in 2005, Lord Armstrong said: "I can only assume you failed to learn from that experience."
Sinclair was told that if he had been found guilty after trial he would have been jailed for six years.
Lord Armstrong added: "I recognise you are a respected member of your community, have not previously been sent to prison and your risk of re-offending is low. However, there is no alternative to a custodial sentence."
The court heard that Sinclair, who had earlier been at a cattle auction, lost control of his pick-up as he drove home, swerved onto the wrong side of the road and ploughed into a bus.
The force of the collision resulted in the bus stopping almost immediately and its rear end was forced into the air.
The three passengers on the bus were thrown towards the front.
Mr Davison, who was known as Les and was from Watten, was thrown forwards and suffered head injuries. The dad-of-one was 24 days away from retiring.
Sinclair, who suffered multiple injuries including fractures to his ribs, hands and legs, had to be cut free from the wreckage. He was airlifted to Raigmore Hospital in Inverness.
A doctor treating him there could smell alcohol on him and asked if he'd had a drink. Sinclair replied "a couple of drams".