Therapist Lorna MacDonald's death 'preventable' says sheriff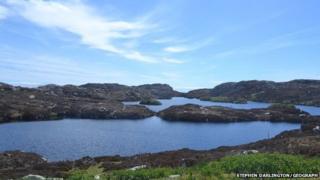 A health worker's death might have been prevented if her employer had warned her not to travel, a sheriff has said.
Lorna MacDonald. 26, from Stornoway, died after her car left the road and ended up in a loch on the Isle of Harris in bad weather in November 2011.
In his determination, Sheriff David Sutherland said an approved staff safety policy had not been implemented.
He said it did not contribute to Ms MacDonald's death but might have prevented it.
The speech therapist was driving to Stornoway on Lewis following an appointment with a child patient in Leverburgh on Harris.
Her car came off the road and ended upside down in Loch nan Uidhean about half a mile from Horsacleit during gale force winds.
A fatal accident inquiry had earlier heard that her employer NHS Western Isles had approved a managing work-related driving risks policy two months before the accident.
However, it was not placed on the staff intranet advice service until a month later in December 2011.
'Stormy weather'
Sheriff Sutherland said that while workers had a responsibility for their own health and safety, employers also had a duty of care of its employees
He said: "Young professionals with a sense of responsibility for their clients and patients will always endeavour to do their best for them.
"Management has a duty to protect employees from risks resulting from this sense of duty.
"We are used to stormy weather in the Western Isles and there is always the danger that people become complacent, especially with the number of weather warnings, many of which do not turn out to be as bad as feared.
"Managers must implement fully the health board's lone working policy and policy for managing work-related driving risks."
A spokeswoman for NHS Western Isles said: "As the case is now subject to legal proceedings it is not possible to comment."