MSP accuses Highland Council over Corran Ferry stance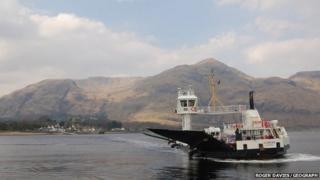 An MSP has accused Highland Council of looking for ways "to run away" from operating a lifeline ferry service.
The local authority covers the cost of the Corran Ferry in Lochaber.
But earlier this month it said the arrangement breached European competition rules and put potential private operators at a disadvantage.
MSP John Finnie said the council had no legal advice to back its claim, adding that it must remain committed to supporting the service.
Highland Council sought advice from the Scottish government's state aid unit on whether its running and funding of the ferry service complied with EC regulations.
The Corran Ferry allows access to and from the communities of Ardgour, Morvern and Ardnamurchan via a narrow stretch of Loch Linnhe.
It is also used by people and businesses on Mull, who first travel to the mainland on the Fishnish-Lochaline ferry.
The Corran Ferry and Fishnish-Lochaline services also offer tourists an alternative to the Oban to Mull ferry.
'Peppered with'
The state aid unit said it was possible that the EC would view the council's running of the ferry as a breach of rules.
Mr Finnie said the council has nothing to back its position other than an email "peppered" with phrases such as "there appears a possibility" and "probably prudent to assume".
He said: "Highland Council should be aware of their obligation to serve all their citizens, regardless of geography, and rather than looking for ways to run away from this lifeline service, they should be providing a long-term commitment to communities in Ardnamurchan."
In a statement, the council agreed the information it received from the unit was not legal advice. However, it added, the advice did warn that there were "inherent risks attached" to the current arrangement.
The local authority hopes Transport Scotland will take over responsibility for the Corran Ferry.
The council said: "The chairman of community services has very clearly stated that we understand the feelings of the community in Lochaber and are committed to doing the very best we can."