Moray Firth's bottlenose dolphin population 'stable'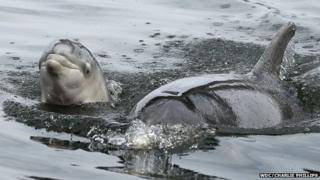 The Moray Firth's population of bottlenose dolphins remains "stable", according to a new report published by Scottish Natural Heritage (SNH).
An estimated 102 individual dolphins used a Special Area of Conservation (SAC) in the firth during the summer of 2011, 112 in 2012 and 94 in 2013.
The firth and North Sea provide habitat for the world's most northerly resident population of bottlenose dolphins.
The species is protected by European Union rules.