Report warns of falling bird numbers in Scotland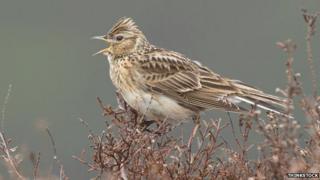 Many of Scotland's land-based birds have declined in numbers since the mid-2000s, according to a new report released by Scottish Natural Heritage.
Stonechats, buzzards, greenfinches and jackdaws have decreased in numbers.
Researchers also recorded a declines since 1994 in kestrels, skylarks, capercaillie and lapwings.
Factors for the falls include disease, severe winters, shortages of insects, poor breeding and - for swifts - a lack of suitable buildings for their nests.
Some species have increased in numbers, according to the Index of Abundance for Scottish Terrestrial Breeding Birds, 1994 to 2013 report.
They include chiffchaffs, cuckoos, ravens and house sparrows.
A rise in golden plovers has been linked to an abundance in the larvae of cranefly, also known as daddy or jenny longlegs.