Highland Council in bust-up over Sir John Gordon artwork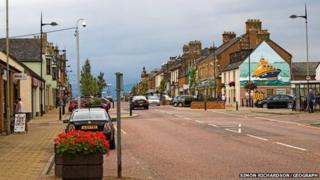 A row has broken out over ownership of a marble bust of an 18th Century Highland laird reported to be worth £1.4m.
Thought to have been lost, the sculpture of Sir John Gordon was found propping open a shed door in Easter Ross in 1998.
Highland Council said it has ownership of the artwork and might sell it.
But SNP MSP Rob Gibson believes it to be a community asset and belongs to the Invergordon Common Good Fund.
Mr Gibson supports a claim by some people in Invergordon that the bust was bequeathed to the town in the 1920s.
The sculpture was made by French artist Edme Bouchardon in 1728 and at some point years later was placed in the care of Invergordon Town Council.
The bust was then thought to have been mislaid and lost during local government reorganisation before it was rediscovered in Balintore, near Invergordon.
Documents backing the community claim to the artwork were thought to have been destroyed some time in the past 40 years.
'No records'
Mr Gibson said: "There are good reasons to think that the investigations the council says it has done will only reveal that large amounts of paper work were burned or disposed of on at least two separate occasions, perhaps in 1973 and in 1996.
"We need to establish first of all who actually has the right to it.
"If Highland Council is acquiring assets from local communities and then considering selling them and keeping part of the proceeds then it isn't respecting the rights of local communities."
He added: "Local people are strapped for cash too and I'd be looking for Invergordon to get 100% of the proceeds if indeed the local community wants to sell the Sir John Gordon bust."
Highland Council said that it owns the sculpture.
A spokesperson said: "The bust was initially thought to be under the control of Invergordon Common Good.
"However, after investigations, there are no records that it was ever gifted for the wellbeing of the people of Invergordon and therefore it is not currently considered as part of the Invergordon Common Good Fund.
"It was the property of Invergordon Town Council, then Ross and Cromarty District Council and subsequently Highland Council."