Community fear Mallaig pool threatened by council cuts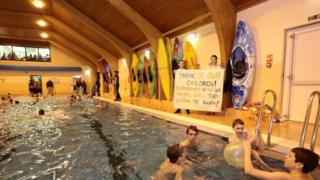 A community in Lochaber is fighting to save its swimming pool.
One of the reasons for the opening of Mallaig and District Swimming Pool in the 1990s was to help fishermen to learn to swim.
More than 1,400 people have signed a petition to stop the potential closure of the building.
Highland Council could withdraw annual funding of £85,000 as part of its money savings plans. The local authority is consulting on its spending proposals.
The swimming pool is run by a not-for-profit organisation and funding from the council helps to cover the site's running costs.