Homes being added to Scotland's Housing Expo site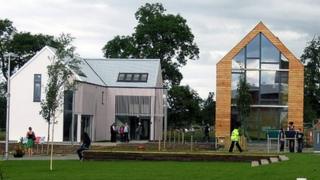 Nine new homes are being added to the site of Scotland's Housing Expo in Inverness.
More than 50 properties with innovative designs were built near Milton of Leys and opened to the public in August 2010, before being offered for sale.
The exhibition had about 34,000 visitors and made a loss of £198,000.
The new rented accommodation is being constructed at a cost of £1m under the Scottish government's National Housing Trust (NHT) initiative.
Developed by Inverness-based Compass Building on behalf of Albyn Housing Society, the development will provide a range of four flats and five terraced homes.
Calum Macaulay, chief executive at the society, said the properties would offer affordable housing.
He added: "There is huge demand for housing in Inverness at all tiers of the market, and by developing new and innovative schemes such as the NHT initiative we can assist more people to secure quality affordable accommodation and make the next steps towards home ownership."
Originally scheduled to be held in 2009, Scotland's Housing Expo was delayed until August 2010 because of the economic downturn.
It involved the government, Highland Council, house building companies and architects.
Following the exhibition the site was renamed Balvonie Braes.