Inverness West Link: Hearing on road to be held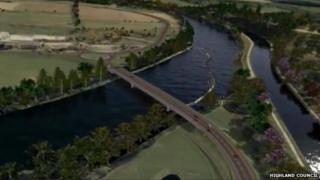 Either a public local inquiry or a hearing is to be held into plans for a new road through Inverness.
Highland Council says the West Link is needed to ease travel across the city and free up congested streets.
A date for a public local inquiry or a hearing into the £34m project has still to be fixed.
An inquiry can take evidence from a wider range of interested parties, while a hearing would hear from the council and affect landowners.
The Scottish government's Directorate for Planning and Environmental Appeals will appoint a reporter who will hear evidence from the council and objectors.
Two objections from landowners has prompted the need for an inquiry or hearing.
However, there has been wider local opposition to the preferred route because it would involve construction on green spaces.
Highland Council has proposed creating new sports pitches and facilities as part of the West Link project.
These could cost up to £9.5m to build.
Highland Council said it had always expected that an inquiry or a hearing would need to be held.
A spokeswoman said: "We welcome the certainty that the announcement of a hearing is bringing so that this very important project to the city of Inverness can move forward."