Biggest section of new Beauly-Denny line made live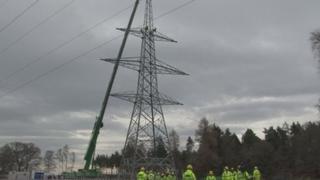 The biggest section of the new Beauly-to-Denny power line has been completed and gone live.
The overhead line from Fort Augustus to Tummel Bridge, which crosses some of Scotland's most remote terrain has taken four years to build.
With this latest section of line now energised it means electricity is being transported 78 miles (127km) from Beauly to Tummel Bridge.
Engineers have built 209 electricity towers to carry the line.
Beauly to Fort Augustus in the Highlands was the first part of the 137-mile (220km) transmission circuit to be electrified last year.
The upgraded 400,000 volt line that will eventually reach Denny in central Scotland triples the capacity of the existing system.
In total, 600 new towers are being built - a reduction of 200 on the existing number. However, some towers are taller and reach heights of 65m (213ft).
Opponents to the upgrade have complained that the new towers will spoil mountain landscapes.
The project is estimated to cost £600m.