'Prehistoric basket' uncovered by tide on North Uist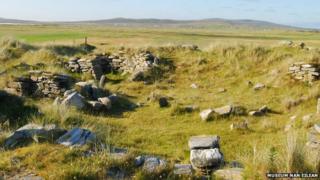 Archaeologists are trying to salvage what appear to be the remains of a prehistoric basket that was uncovered by the tide on North Uist.
The artefact was found in an area of shoreline where the sea has been eroding the land in the Western Isles.
Comhairle nan Eilean Siar said it was working with Historic Scotland to safely excavate the object.
Many well preserved ancient artefacts have been discovered at other sites on North Uist in the past.
In a statement, the comhairle said: "Comhairle nan Eilean Siar has confirmed that an archaeological find which appears to be a prehistoric basket has been uncovered by the tide in North Uist.
"Following its exposure, the deposit is suffering from ongoing erosion with sections being lifted off the underlying sand, therefore the priority is to safely excavate the find so that a complete assessment can be made.
"Comhairle nan Eilean Siar are currently working with the local community and Historic Scotland in order to carry this out."
Jelly Baby
Elsewhere on North Uist, evidence has been found for every age from the Neolithic to the 20th Century.
Archaeology at a site at Udal on the island provides an unbroken timeline of occupation from the Neolithic, Bronze Age, Iron Age, Viking, Medieval through to the 1900s.
Some of the evidence was preserved by wind-blown sand dunes.
From the Bronze Age, finds have included a skeleton and from the Iron Age evidence of metal work.
Also, from the Iron Age are the remains of homes dubbed Jelly Baby houses because the shape of them looked like the sweets.
Objects from Udal have been placed in the care of Museum nan Eilean in Stornoway on Lewis.