Flybe and Aer Lingus in Inverness flights agreement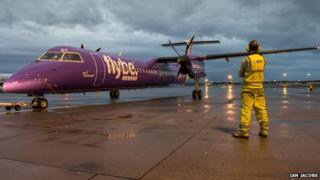 Flybe has entered into an agreement with Aer Lingus to open up access to destinations such as New York, Orlando, Chicago and Toronto from Inverness.
The airline said the flights would be possible via a single stop in Dublin.
Called a codeshare agreement, it means the flights can be made with one ticket.
Flybe said customers would be able to book the new flights via Dublin-based Aer Lingus' website or through travel agents.
It said Dublin Airport provided US Customs pre-clearance meaning that passengers would arrive in the United States as "domestic passengers".
Flybe said travellers can then proceed straight through to the arrivals hall at their eventual destinations, bypassing US Customs and Immigration queues.