Breaching humpback whale makes a big splash off Skye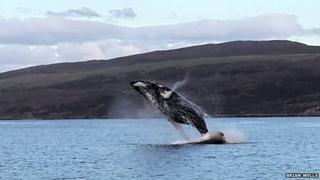 A humpback whale has been photographed breaching from the sea off Skye.
Brian Wells took a series of images on Wednesday afternoon while working on a fishing boat near Portree.
Mr Wells said the whale had been in the area for about two weeks and he had previously seen it coming up out of the water on Monday.
The humpback is a species known for spectacular breaching, according to the marine wildlife charity Whale and Dolphin Conservation.
Its scientific name Megaptera novaeangliae means "big winged New Englander", because of its large, long flippers. It was first described in New England in the USA.
Mr Wells captured the images on his mobile phone.