Highland Council's 430 million year old headache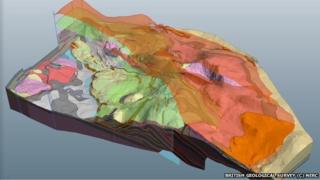 Geology formed hundreds of millions of years ago has been identified as a factor behind problems affecting a lifeline road in the Highlands.
Travel on the A890 Stromeferry bypass in Wester Ross has had to be restricted following the latest in a series of rock falls.
A solution could cost Highland Council up to £132m.
In a report to councillors, officials said part of the problem was an area of fragile rock known as the Moine Thrust.
The bypass, which was built in the 1960s and plays a part in taking traffic around Loch Carron, lies on the line of the ancient geology.
The officials' report sets out options for keeping traffic flowing in the area.
They include re-routing the road via a bridge, or changing the layout of the nearby railway line and the bypass, at costs running to £132m.
Highland Council has £10m available to cover the cost of the work needed, and officers have sought the green light from councillors to begin the process of finding other sources of funding.
In the report, officers said: "The road lies on the line of the Moine Thrust, a geological area of shattered and fragile rock which runs through the West Highlands.
"This geological formation of overlapping tectonic plates has led to instability in areas where the rock is exposed through excavation, such as on the Stromeferry bypass."
The Moine Thrust forms part of the North West Highland Geopark.
According to the geopark, two ancient continents collided about 430 million years ago and pushed massive sheets of rock 62 miles (100km) to the west, creating the Moine Thrust and many of Scotland's mountains.
The effects of this thrusting can be seen at Knockan Crag, Traligill, Loch Glencoul, Foinaven, Faraid Head, Eriboll and Whiten Head.
Last year, the British Geological Survey (BGS) created 3D models to reveal a section of what is known as the Assynt Culmination in the Moine Thrust Belt.
The organisation said at the time: "The Moine Thrust Belt is one of the iconic structures of the Caledonian Orogeny that we have in the Highlands of Scotland.
"It has been researched for a century and more."
After a landslide in December 2011 the Stromeferry bypass was shut for four months.
The route was closed from 22 December 2011 to 23 April 2012 and it cost Highland Council £2.8m to deal with the aftermath of the landslide.
A small and historic car ferry, the MV Glenachulish which crosses between the mainland and Skye, was hired to help local motorists avoid having to make a long detour.
School pupils used train services and a hired pleasure boat to get to school.
Large rubber mats were later laid on a railway next to the bypass to allow road traffic to travel a short distance along the line.