Man who stole Inverness bull terrier pup jailed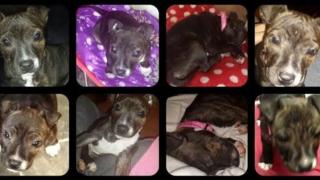 A man who stole a Staffordshire bull terrier puppy has been jailed for six months after a dog lover performed a citizens' arrest.
William Cochrane, 29, of Culloden, took Roxi from the garden of a house in Inverness on 18 May.
He was caught by Brian Tolmie, of Fort William, after he advertised the dog for sale on the internet.
Cochrane offered to give Roxi and two bicycles in exchange for a car, Inverness Sheriff Court heard.
Mr Tolmie checked the description of the puppy on the website Missing Dogs Scotland and contacted Roxi's owner Anna Straube.
Following an exchange of emails with Cochrane, Mr Tolmie travelled north to perform a citizens' arrest.
Along with Ms Straube's partner, Mr Tolmie met up with Cochrane to be sure it was Roxie.
'Significant upset'
Outside the court, Mr Tolmie, a dog owner himself, said: "We had masses of emails and texts, and enough evidence for the police, but we wanted to make sure 100% that we had the right dog.
"When it recognised Anna's partner we knew right away and we called the police."
Ms Straube praised Mr Tolmie for his intervention.
She said: "I can't thank Brian enough and justice was done.
"I was distraught when Roxi went missing. So were my daughters, eight year old Kayla and three year old Sofia.
"We were searching for the dog for two days and I thought she was gone for good.
"I burst into tears when I was reunited with Roxi. They put a value of £300 on Roxi, but she is priceless to us."
Appearing from custody, Cochrane admitted resetting the stolen dog.
Jailing him for six months, Sheriff Margaret Neilson told Cochrane: "You must have caused significant upset and distress to the owner of the puppy.
"Only a custodial sentence is appropriate."