New exhibitions explore Western Isles' WW1 sacrifices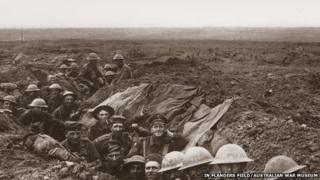 Artefacts from a museum in Belgium are to form part of a series of exhibitions recalling the high number of Hebridean lives lost in World War One.
Of more than 6,500 men from Lewis, an isle with a population of less than 30,000 at the time, 1,151 of them were killed on active service.
It was one of the highest proportions of any community in the UK.
Items from the collections of In Flanders Fields Museum in Ypres are to be displayed on the Western Isles.
The photographs and other artefacts form part of the Gairm nan Gaidheal - Call of the Gael - project being run by the Gaelic Arts Agency.
An exhibition at Lanntair in Stornoway on Lewis has already opened and will run until 6 December. It coincides with the Hebridean Book Festival.
Exhibitions will also be held on North Uist, South Uist, Harris and Barra from November into next year.
Other Western Isles communities also suffered severe casualties in WW1.
From the Uists and Benbecula, 367 men serving with 2nd Service Battalion of the Camerons in the 9th Division were killed in the opening days of the Battle of Loos in September 1915.
Out of a total battalion strength of 800, only 72 men survived.