Liam Aitchison murder: Pair fail in conviction appeal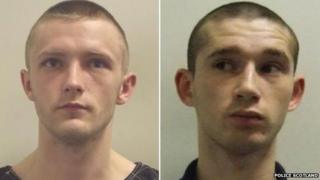 Two men jailed for life for the first murder on the Western Isles in more than 40 years have failed in their bids to have their convictions quashed.
Liam Aitchison, 16, from South Uist, died during an attack on the Isle of Lewis on 23 November 2011.
Johnathan MacKinnon and Stefan Millar, both 23, were each ordered to spend a minimum of 18 years in prison before they could apply for parole.
But lawyers argued that they were victims of a miscarriage of justice.
During a two and a half hour hearing, judges at the Court of Criminal Appeal in Edinburgh heard that the jury which convicted MacKinnon and Millar last year acted wrongly.
Judges Lady Dorrian, Lord Bracadale and Lord Drummond Young were told that the evidence led against the two men at their trial at the High Court in Glasgow did not prove their guilt.
Solicitor advocate Chris Fyffe and advocate Claire Mitchell argued that the trial jury should have acquitted the two men.
The two lawyers argued any other reasonable panel of citizens would have allowed both MacKinnon and Millar to walk free.
But the judges disagreed and ruled that the evidence was of a sufficient quality to allow a jury to convict them.
As he was being led down to the court room cells to continue his life sentence, MacKinnon turned to relatives of Liam who were sitting in the public benches and swore at them.
Prosecutor Iain McSporran told the court in Edinburgh that there was enough evidence available for the jury to have returned verdicts of guilty on the two men.
In delivering the court's decision from the bench, Lady Dorrian ruled that the two men had not suffered a miscarriage of justice.
She added: "It is not the verdict of an unreasonable jury."
MacKinnon and Millar had denied murder but were found guilty by a jury at the High Court in Glasgow.
Liam had socialised with Millar and MacKinnon after he started living in Stornoway on Lewis. The three had worked in the fishing industry.
The court heard that on 23 November 2011, Millar and MacKinnon - who were from Lewis, but moved to Elgin and Inverness while on bail - had fought with Liam.
Almost two weeks after he was last seen alive by his girlfriend and other friends, Liam's body was found in a derelict RAF building at Steinish, near Stornoway Airport.
He had been struck on the head and body with a knife and bottle, and his head had been stamped on.
The court heard that Liam had been stabbed 20 times.