Rare bird on wrong side of Atlantic after migrating to North Uist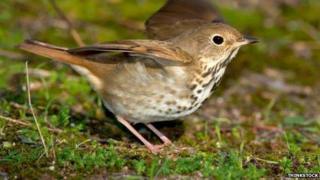 A rare bird has ended up on the wrong side of the Atlantic after migrating to the Outer Hebrides at the height of the recent storms.
The sighting of the Hermit Thrush at Balranald nature reserve on North Uist is only the 13th recorded in Britain.
The bird is a medium-sized North American thrush and usually migrates to the southern United States and south to central America.
Another Hermit Thrush was seen on Fair Isle in May.