Fire crews tackle large blaze at former hotel in Macduff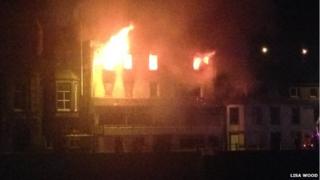 Emergency services were called out to tackle a large fire at a former hotel in Aberdeenshire.
About 10 fire appliances were brought in to fight the flames at the Highland Haven in Shore Street, Macduff.
The Scottish Fire and Rescue Service received calls about the blaze at the harbour-front hotel at about 23:30 on Saturday.
It is understood the building has been unoccupied.
About 70 firefighters were involved in the operation, and stopped the blaze spreading to nearby buildings.
An investigation has been launched into the cause.
Did you take any pictures - still or moving - of this fire? Send them to the BBC Scotland news website at newsonlinescotland@bbc.co.uk
Please ensure when filming or photographing an incident that you make your safety and the safety of others a priority.
If you submit an image, you do so in accordance with the BBC's Terms and Conditions.