New Gaelic resources unveiled at Mod in Inverness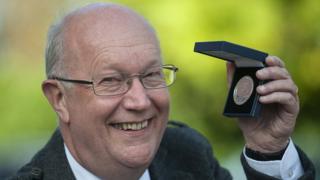 Two new resources for people learning Gaelic have been unveiled at the Royal National Mod in Inverness.
LearnGaelic said a new app with 60 units for beginners will be available this month.
It has been designed to provide learners with words and phrases to enable them to "build up a strong foundation" for conversational Gaelic.
An interactive Gaelic dictionary with audio files will also be available later this month.
The dictionary has been created in association with Scottish Gaelic dictionary organisation Am Faclair Beag.
Inverness is hosting the biggest Mod in the festival's 122-year history.
The celebration of language, music, art and sport includes competitions and the Mod's largest fringe event.
Prizes already handed out include the Gaelic Learner of the Year award to Dumfries-born retired teacher John Howieson.
He lives in Harrapool on Skye and started leaning Gaelic in 2007.