Concern at toileting on UK's second highest mountain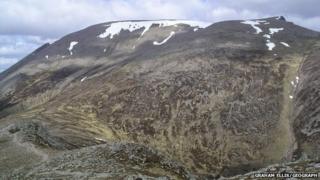 Increasing amounts of human waste is being left on the summit of the UK's second highest mountain, conservation charities have said.
RSPB Scotland and National Trust for Scotland said the faeces on Ben Macdui posed a potential health risk.
Some of the waste has been left at the ruins of the stone-built Sapper's Bothy.
Ben Macdui, number two on the list of the UK's tallest peaks after Ben Nevis, is in the Cairngorms.
The charities own the mountain.
Jeremy Roberts, site manager for the RSPB-owned Abernethy reserve which takes in much of the Munro, said: "I would urge all visitors to respect this wonderful place and act responsibly.
"Please leave the mountain as you would hope to find it.
"This is a very sensitive environment and this kind of irresponsible behaviour spoils the experience of people coming to the area."
Peter Holden, NTS head ranger at Mar Lodge Estate, which includes part of Ben Macdui, described the situation as "socially and environmentally unacceptable".
He added: "Our mountain summits represent some of our most remote and pristine environments, amongst the most challenging to visit and to manage.
"We would encourage visitors to aspire to the principles of 'Leave No Trace' and follow best practice for the burial of human waste away from the plateau."
The Mountaineering Council of Scotland has also previously issued advice on safe "free range toileting".